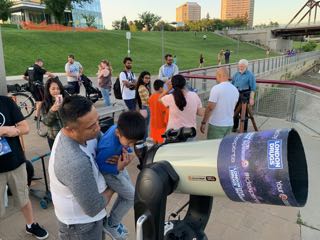 The Saskatoon Centre of the Royal Astronomical Society of Canada (RASC) meets on the third Monday of every month from September through June at 8:00 p.m. in Room 175 Physics building on the University of Saskatchewan campus. See the latest newsletter for possible changes in meeting date or location.
NOTICE: Due to COVID-19 based restrictions on gatherings imposed by the University and the Provincial Government, the Centre meetings have been moved on-line. See the Activities page for instructions on joining the on-line meeting.
The meetings are open to the general public and there is no admission fee. A list of current events may be found in the latest newsletter and Activities page. See the RASC Bulletin for National news about the RASC!
Contact Us
Questions about astronomy, the Saskatoon Centre or membership?
E-mail:
&nbspsk_centre@rasc.ca
Snail-mail:
&nbspRASC Inc.
&nbspPO Box 31086
&nbspRPO Broadway
&nbspSaskatoon, SK
&nbspS7H 5S8
How to Join the RASC Saskatoon Centre
Membership in the Society is open to everyone who has an interest in astronomy.
As a part of Canada's national astronomy Society, members of the Saskatoon Centre receive Society publications and services including the electronic edition of the Journal, the annual Observer's Handbook and SkyNews magazine.

Membership fees* (CAD$) for the Saskatoon Centre are as follows:
| Regular | Youth | Family | |
| --- | --- | --- | --- |
| $96.00 | $52.00 | see webpage | |
(*Payment of fees includes membership both with the Saskatoon Centre and National organization of the RASC.)

E-mail us if you only want the Saskatoon Skies printed/mailed subscription without membership: $15/yr. (On-line newsletters are available free.)

There are two convenient ways to join our Centre. (Visa and MasterCard are accepted)
New Members
Can join on-line using your credit card by visiting http://www.rasc.ca/join, or
Can call the RASC National Office Membership Coordinator (from 9:00 a.m. - 4:30 p.m. Eastern time) at (519) 783-1529.
Renewing Members
Renew your membership by visiting this link.
Follow the directions there to login to your membership account on our member portal and renew with your credit card.
Complete your annual renewal form (sent by email or paper mail) and send it to the RASC National Office.
Call the RASC National Office Membership Coordinator (from 9:00 a.m. - 5:30 p.m. Eastern time) at (519) 783-1529.